Sending Gifts to New Zealand from the UK
If you're in the UK looking to send gifts to New Zealand for your friends, family or clients, your options can be pretty limited. So, here at Chuffed we came up with the perfect solution. We wanted to make sending an amazing gift to your loved ones here in New Zealand easy, even when purchasing from halfway across the world.
Can you send gifts to New Zealand from the UK?
You can of course purchase a gift in the UK and send the gift to New Zealand yourself via your local post office, but there are lots of downsides with this. The first one is the fact you'll have to pay for postage. Postage can be pretty pricy depending on what you're sending, how quickly you want it to get there and if you want it tracked. Then you need to think about VAT/GST tax charges depending on your gift value. You also never really know how long it will take to arrive, especially with the delays of Covid these days.
So, the next best option for sending gifts to New Zealand from UK is to purchase a gift online from within New Zealand and have it sent directly to your gift recipient. This ensures your giftee won't have to pay any extra tax, your shipping cost will be minimal (if any) and the delivery time is much shorter and you're less likely to experience delays.
What gifts are available in New Zealand?
So now you've got to find that New Zealand gift online. It can be tricky to know where to start when you can't do it in person. You can of course order flowers form a local florist, or buy a material item from a local store here in New Zealand that you know of. But how do you know they don't already have it, or if they would like it, and who really needs more things?
An expereince gift is the perfect solution for this and waaay better than receiving more stuff. Experience gifts give your giftee incredible memories and they're even scientifically proven to make you happier. "An experiential gift is more intensely emotional than a material possession," says Cindy Chan a Professor at the University of Toronto who researched this. "If you want to give them something that will make them feel closer to you, give an experience."
Experiences inspire people, help them grow, see the world differently, try new things and create less waste. Luckily here in New Zealand there are loads of incredible experience options. Think soaking in mud pools, ziplining through ancient native forests, cruising through our beautiful sounds, sipping wine amongst famous vineyards, kayaking our stunning coastline and SO many more.
It can be hard to know which one they would like to do and how do you choose just one? So, here at Chuffed we've teamed up with hundreds of experience providers across New Zealand to create a gift you can't get wrong.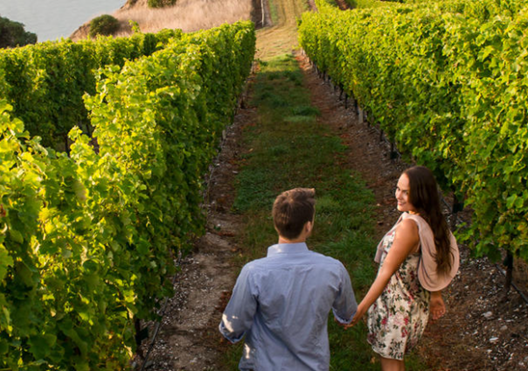 The perfect solution for sending gifts to New Zealand from UK
With Chuffed Gifts you choose the gift package, which are priced from $99 NZD and they get to choose one from up to 80 experiences from all over NZ. For him, for her, for couples, for families… Chuffed has you covered. It literally is the gift that can't fail. Whoever you're gifting this to, there is a huge variety of options from total relaxation through to hair raising adrenaline. There is something that will appeal to everyone in each gift – Granny, empty nester, couples, Gen Y or Gen Z – there's something for everyone!
Chuffed Gifts removes the hassle of sending a gifting from the UK, adds the personal touches and delivers straight to their door in New Zealand. It is a gift that can't fail that they will be ecstatically thanking you for… twice…  Once when they receive it, and then when they experience it!
All gifts come in a trendy Chuffed Gift Tube which creates an intense excitement, overwhelming intrigue and gratitude on steroids. Gone are the days of PDF vouchers and plastic gift cards – Chuffed Tubes make gift giving fun again.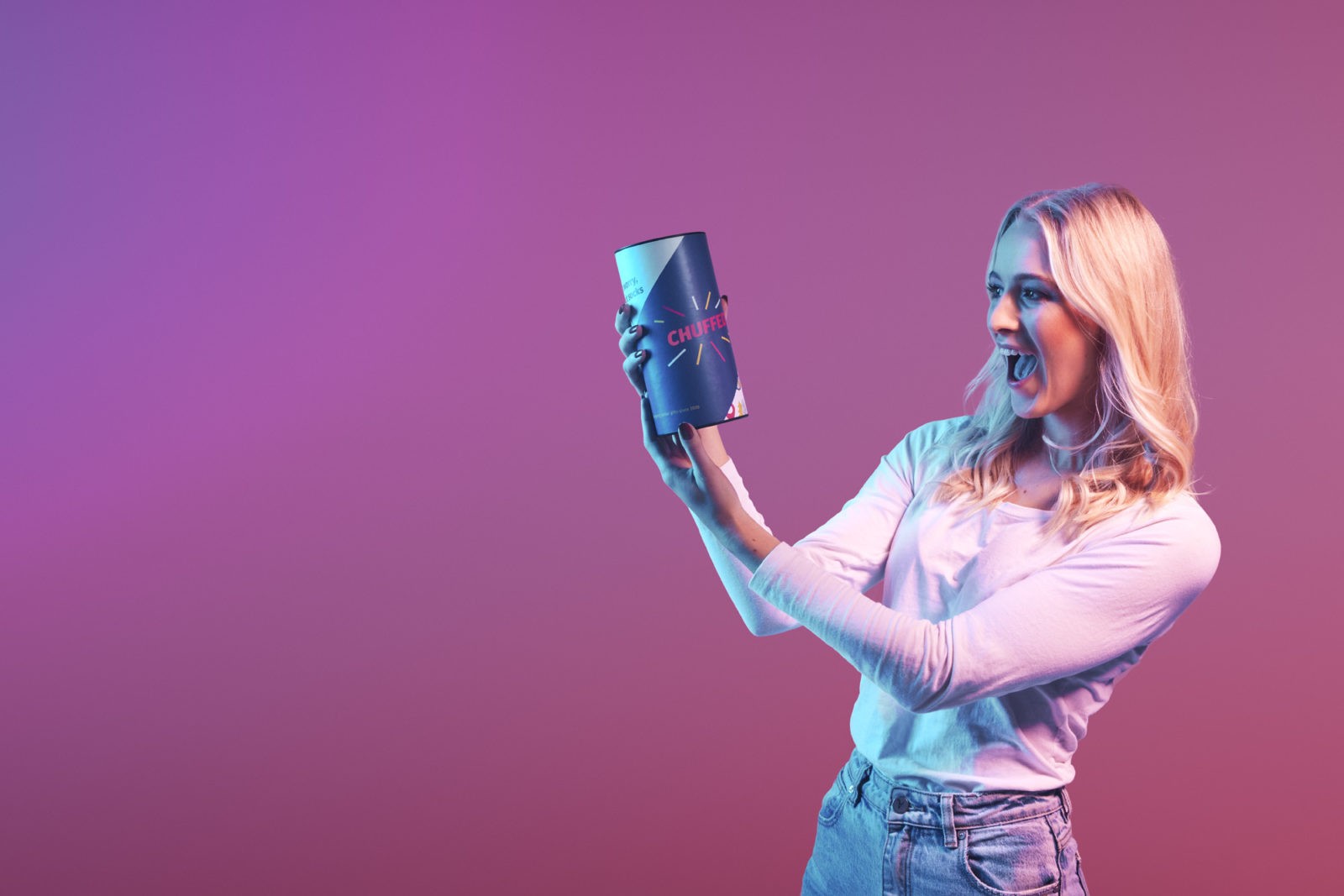 We will gift wrap your package and include a personal message. Then we deliver the Chuffed Gift direct to their door – anywhere in New Zealand.
No matter where they live in New Zealand, there are Chuffed experiences close by. All gifts are valid for 2 years so they can choose to do something locally or save it for next year when they have an inter-island holiday planned.
You're also supporting our covid-hit tourism industry, encouraging your lucky gift recipient to get out and experience something new!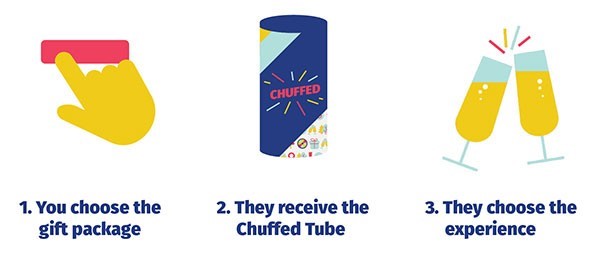 How does New Zealand gift delivery work?
 All Chuffed gifts include free shipping to any New Zealand address.
You order online, check the text box that you want it delivered straight to the recipient and type in your message.
We pack your gift, add your message and wrap it. We'll send you a picture so you know exactly what they will receive.
Our courier provider delivers direct to your gift recipients door.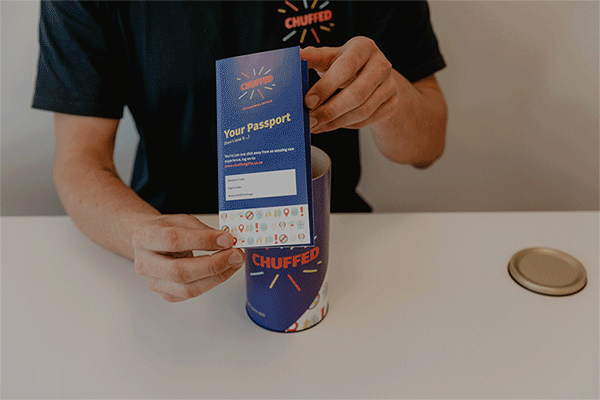 Once you place your Chuffed order with us, we will dispatch your gift as soon as possible Monday – Friday. If ordered before 2pm New Zealand standard time we will dispatch that day. All orders received after 2pm will be dispatched the following day. We use New Zealand Courier Post who deliver within 1-2 business days, usually the following day (allow an extra day for rural delivery).
Here at Chuffed we can also send your gift on a date of your choosing. So,  if you're getting organised early, or would like it to arrive closer to that special birthday or occasion, we can dispatch your gift so it will arrive within a day or two of the date you choose. We can even place a note letting them know not to open until a certain date – just let us know when you checkout.
Chuffed takes all the hassle out of sending gifts to New Zealand from the UK and you can still have all the personal touches like gift wrapping and a personal message. Experiences make an amazing gift and with Chuffed there is no risk of getting it wrong as they get to choose! What's not to love about an exciting Chuffed gift for sending gifts from the UK to New Zealand?
Reviews from people who have sent gifts to New Zealand from the UK
Great idea with prompt service and personal touches

"Love the idea of chuffed gifts! Bought as a wedding present for a friend from overseas. Prompt service with personal touches and the product looked great when it was sent out!"

– Francesca Koffler
Great way to send a gift from the UK

"I ordered the Experience for two -Discover package. Everyone was really helpful, communication was fantastic and delivery was really speedy!! My friend loved the gift. Couldn't recommend highly enough!!"

– Joanne King
My sister was Chuffed!

"I used Chuffed Gifts as I'm in the U.K and wanted to send a less run of the mill birthday pressie to my sister-in-law (they live in Tauranga NZ). The website and ordering process are fab and very straightforward – the gift experience choices are varied and great value – way better than I've seen here in the U.K!

My lovely sister-in-law received the gift tube within 24hrs of ordering and loves all the experiences she's got to choose from. A really great service and certainly makes an awesome gift. Thank you all at Chuffed Gifts."

– Julia Cunliffe