Frequently Asked Questions
FAQ's for buying a Chuffed Gift
Where do you ship to?
All addresses in New Zealand.
When will the Tube arrive?
From Monday to Friday all orders received before 2pm will be dispatched on the day of order.
We use New Zealand Post overnight courier service to urban addresses, meaning in most instances, your gift will be delivered to you the day after dispatch.
Rural addresses require 2 days for delivery.
All orders received from 2pm Friday and through the weekend will be dispatched on the following Monday.
While the New Zealand Post service is highly reliable, occasionally delays occur.  These delays are out of our control but we do monitor all packages through to delivery, follow up quickly and will keep you informed if we are aware of a delay.
What's in the Tube?
The Tube contains the gift package booklet explaining the gift they've been given and how it works. The booklet is 26 pages and showcases experiences from across the country that they can choose from. The tube also contains their 'passport' with their gift redemption code which they will need to redeem the tickets to their chosen experience.  The below photo shows what is in the Tube.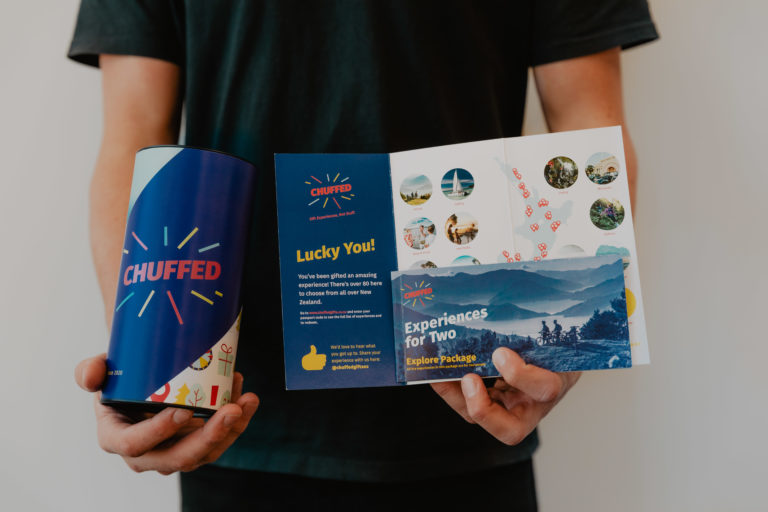 How much is shipping/courier?
Free!  All postage costs are included in every package, so there is no additional charge at checkout for shipping.
I want to send it direct to the recipient – how does it arrive?
At checkout you have the option of including a message to the recipient which we will print out and include in the gift.  We will then wrap the gift.  The photo below shows how it will be wrapped and the printed message.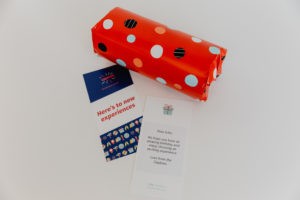 We do not include receipts or packing orders in case the gift is being sent directly to the gift recipient.  These documents will be emailed to you.
I'm overseas but looking to buy a gift for someone in New Zealand, can you do that?
We can! Simply enter the recipients details when prompted at checkout and we'll send your gift straight to them. You can also add a note to the gift and have it gift wrapped, all ready for the lucky recipient.
When does the gift expire?
The expiry date is 2 years after date of purchase.
How is the gift redeemed?
The gift comes with full instructions on how to redeem it.  It is a straight forward process that can be done in 4 clicks on our website.
The gift comes with a unique gift code that allows the recipient access to all of the options in the package you have chosen.
I am buying now but don't want it delivered right away, is that possible?
Yes! Just put a note on your order saying which date you'd like the gift delivered by and we'll make sure it arrives on the day or the day before that date.
Are there any booking fees?
No – there are no costs for the recipient to redeem their gift.
How does the 7 day money back guarantee work?
We are confident you'll love what arrives in the courier, but if for any reason you are unhappy or disappointed, simply return it to us for a full refund.
To date – we have not had a single return.
Can I contact Chuffed?
Yes – our office is open 9am – 4pm, Monday to Friday to take your call.  Phone 07 571 1950 or email us at hello@chuffedgifts.co.nz
How big is the tube?
Our Chuffed gift tube is 19cm tall and has a diameter of 9cm. 
Are you adding new experiences?
Yes – we are constantly adding new experiences to our packages.  When a new experience provider joins Chuffed as a partner, we add the experiences they offer to our gift database.  The new experiences instantly become part of the options all gift recipients can access with a valid gift redemption code.
What about participation restrictions?
All experience partners have a unique set of operating policies and procedures.  For example weather conditions, age, fitness levels and opening hours will vary from company to company.  Any participation restrictions will be clearly displayed to the gift recipient at redemption when they are selecting the experience they wish to do.  
How many Adults & Children do your family packages cover?
All experiences in our family gifts cover at least 2 Adults and 2 Children, however there are some experiences that cover 2 Adults and 3 or 4 Children. Each experience listing is marked with how many Adult and Children are included. There is always the option of paying for additional tickets also.
If I choose an experience with two different activity providers, do I need to do them both on the same day?
No, these activities can be enjoyed separately on different days any time during the two-year validity period.
FAQ's for redeeming a Chuffed Gift
How does this redemption process work?
Follow the steps at www.chuffedgifts.co.nz/redeem
Here you can research all the experience options available to you and decide which one you want to do
Click redeem to convert your passport code found on your gift into a voucher for you chosen activity
A voucher will be sent to your email address with full booking instructions and a unique booking code to provide to the operator
Visit the experience and use your Chuffed voucher as payment
Does Chuffed make the reservation for me?
No,  through the redemption process you convert your passport code on your gift to a Chuffed voucher that is valid at you chosen experience. Chuffed emails you the voucher, you follow the instruction on the voucher to book into the experience you have chosen.
The exceptions to this are any Hobbiton or Fullers ferry experiences, which Chuffed Gifts will book on your behalf, but this is clearly stated on your voucher once you have redeemed it.
What does 'redeem' mean?
"Redeem" is the process of converting your unique passport code found in the passport of your gift, into a voucher to the individual experience you have chosen to do.  Without going through the Chuffed 'redeem' process you will not have a valid voucher that will be accepted for payment at your chosen activity.
My code doesn't work at the redemption checkout
All the codes (except handwritten codes)  work but occasionally customers have a bit of trouble: here's some tips.
Your code needs to be entered as it appears on the front of "Your Passport", including the dashes e.g. d73j-9e3g-76w0 Please also note that there are no letter O's in the codes, any 0 is the number zero. 
Double check that you are trying to redeem a gift that is actually in the gift package you have received. 
If you are using a code that is hand-written on the back of your gift, start the redemption process again, hit yes when asked if your code is handwritten, and follow the steps from there. 
Do I contact the experience provider?
Yes you do, once you have redeemed your gift for a voucher for your chosen experience, all of the details you need to contact and book in with the experience provider are included on the voucher you will be emailed
How does the Wishlist work?
The wishlist allows you to save multiple experience options that you are interested in, and view them in one place. You can add & remove options from your wish list during the redemption process, and view your wishlist by hitting the heart icon in the top-right corner of the website.
Can I upgrade to another package?
Yes you can, just get in touch with us at hello@chuffedgifts.co.nz, let us know your Passport code & which package you would like to upgrade to & we will send you the details.
Can I add more people?
Yes you can, just get in touch with us at hello@chuffedgifts.co.nz, let us know your Passport code, which experience you'd like to choose & how many additional tickets you need & we will send you the details.
Can I upgrade to another experience offered by the same provider?
Yes you can, just get in touch with us at hello@chuffedgifts.co.nz, let us know your Passport code & which experience you'd like to upgrade to & we will send you the details.
I redeemed my voucher but now can't do that experience
Damn! No worries, just let us know & we will be able to cancel your voucher & re-credit your code so you can select a new experience.
I redeemed my voucher but the experience provider cancelled it
This does sometime happen, especially with all the Covid changes going on and unpredictable weather in New Zealand! If you cant book for an alternate date, just let us know & we will be able to cancel your voucher & re-credit your code so you can select a new experience.
What dates is the experience available?
To check on availability, please contact the experience provider, you can find their details on the experience listing page, or if you have redeemed your gift, on the voucher you have been sent. 
My gift has passed it's expiry date
We still want you to enjoy an awesome Kiwi experience, so get in touch with us. 
My code is handwritten and isn't accepted when I input it
Hand-written codes aren't accepted by our software, head here www.chuffedgifts.co.nz/redeem  Click YES when it asks if you code is handwritten and fill out the form & we will be in touch with your voucher.
An experience I had previously seen is no longer displayed
If an experience in your gift is no longer displayed, this is likely because the experience operator no longer offers or it has had rates changes that make it no longer viable for Chuffed to offer it. It is rare we remove a experience but does happen occasionally.
Chuffed is constantly adding new experiences to the gift categories so check back regularly as you will see new options available to you. 
What is the value of my voucher?
The voucher doesn't have a value – it has a selection of experiences it can be redeemed for.  By following the instructions at www.chuffedgifts.co.nz/redeem you will be able to view all the experiences that you are able to choose from.
I can't find the answer to my question
Get in touch with us & we will be happy to answer any questions you have! Our contact details are at the bottom of this page