Partner Spotlight – Penny & Wayne WildCoast Ruapuke
Following a stunning drive along a narrow, windy, gravel coast road you'll find Penny, Wayne and their three kids River, Ziggy and Star on the family farm at WildCoast Ruapuke. Located about half an hour from Raglan, visitors have come here from all corners of the world to experience the magic of WildCoast Ruapuke. This incredible horse trekking experience is as relaxing and inspiring as it is exciting and adventurous, and you can also indulge in a night or two in the off-the-grid Eco Cabins (hand-built by Wayne, of course).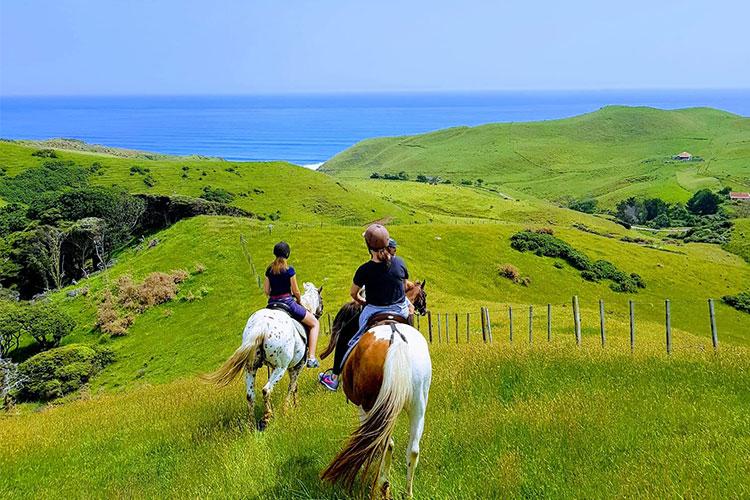 The story of WildCoast began over 25 years ago when Penny and Wayne made their first visit to what was then a bare block of farmland. Penny recalls it being a wet and wild West Coast day, and remembers standing on the land, seeing a huge smile on Wayne's face and thinking 'oh here we go'.
Horses have long been a part of the history of the area. They were used for stockwork when the land was previously a sheep and beef farm, and before that, to deliver mail and other essentials along the beach before roads were cut into the hillsides. With Penny and Wayne both growing up around horses, it was the perfect fit to share their passion and the history of this place with everybody.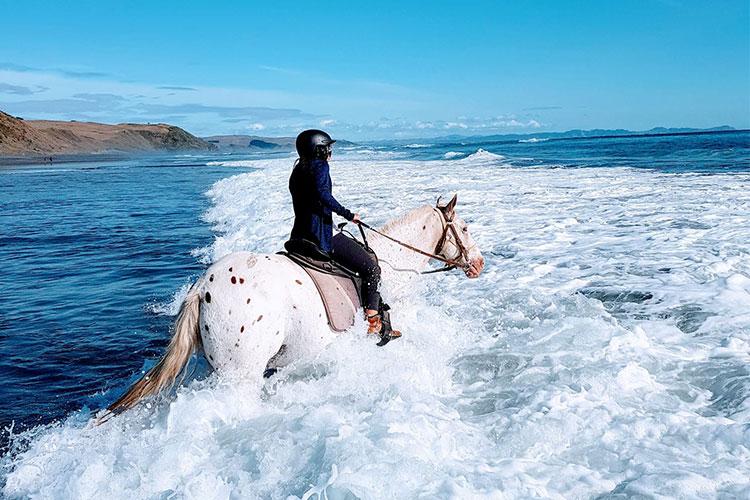 They began their life at WildCoast Ruapuke in an old caravan and slowly built their home over the years. It seemed only right that they offer an accommodation option that offered their guests that same off-the-grid living experience that the family have enjoyed so much. So, Wayne got to work at building the Chalets himself. Each nestled amongst the bush, away from cell reception and within earshot of the stream below. They are the perfect place for guests from all over to escape the busyness of everyday life and enjoy some peace and tranquility.
Wayne and Penny have also put huge emphasis on keeping the animals and natural environment at the very forefront of their business. On any given horse trek or stay, guests are likely to encounter stunning black sand beaches, bush, mountains and streams as well as native birds and other wildlife. Over the years, much effort has gone into preserving each of these environments, with 120 acres of their land being returned to bush, and a huge ongoing planting effort to aid the regeneration of this place. These guys really are a true sustainable tourism operation who put their money where their mouth is. No greenwashing around here!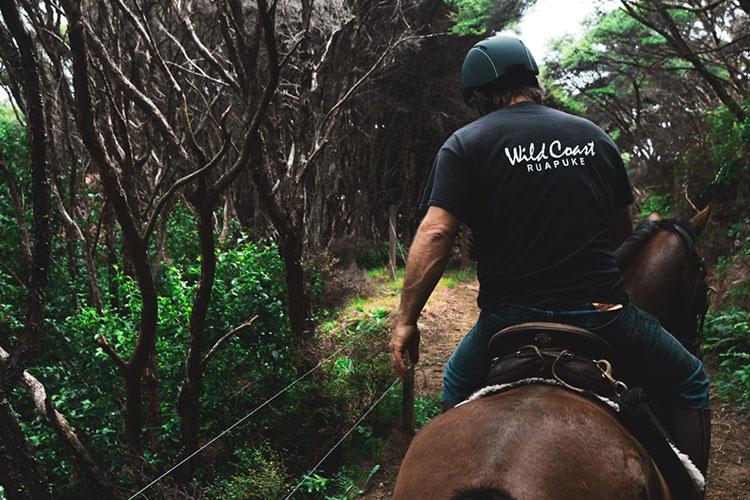 What started as a family run business in 1999 remains very much intact today. WildCoast Ruapuke is built on a huge pride of place in this stunning slice of paradise. Penny and Wayne have a genuine passion for sharing this incredible place with their visitors, this is how it began, and is how the business is run today.
We're super stoked to be able to support this sustainable tourism business as they head into a summer without the international visitor market. WildCoast Ruapuke is the perfect experience to get off the grid and for us Kiwi's to try something we haven't done before – and what better gift than the opportunity to get out and explore?