Partner Spotlight – Mat from Boom Sailing Whitianga
Having spent most of his life on the water through a professional sailing career, Mat Collicott found his dream business with Boom Sailing in Whitangia.

Where the passion began
It all started with childhood holidays spent camping and sailing just over the hill from Whitianga near Coro town. Mat's sailing then took him all over the globe with his own yacht delivery business.
It was in 2016 when Mat decided to lay down roots and founded Boom Sailing. It's a family operation running day cruises, sundowner cruises, foiling trips and private charters on two fairly unique commercial sailing vessels. The first Catamaran is 'Fully Charged', built just down the road in Tauranga as a Coastal racer. The second is 'Excess', a foiling Catamaran with history and ties back to Team New Zealand and the development of foiled sailing in the America's Cup.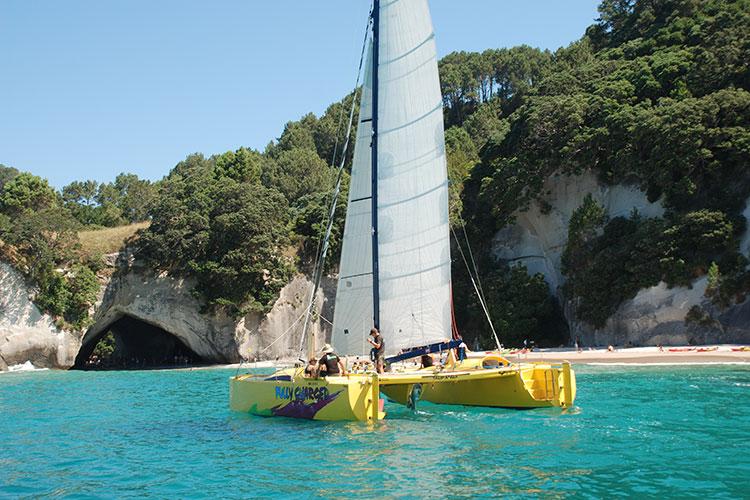 Experiencing the Boom Sailing Catamaran is an incredible adventure you'll never forget. 
The dream location
Whitianga and the Coromandel is a sailor's paradise, with an abundance of marine life, pristine white sand beaches, and natural features to showcase. Breath-taking places like Cathedral Cove and Hot Water Beach, are all within a short cruise from the Boom Sailing base. Here you'll also find a huge sailing community, friendly locals, and a bay full of options for either a chilled-out cruise or hard-core foiling experience. Add to this a childhood full of fond memories sailing in the area, and it's easy to see why Mat settled on this gem of a Kiwi town to set up shop.
The experience
Mat and his crew are avid sailors, who are stoked to be able to get out on the water and share their passion with their punters. We know a genuine passion for what you do resonates with the people experiencing it. Seeing any of Mats crew in their element at the helm, combined with a mantra around doing everything in their power to exceed customer expectations, really makes the experience unforgettable. It's easy to understand why all of the 170 plus reviews on these guys on TripAdvisor are 5-Star.
The perfect Chuffed fit
At Chuffed, our aim is to facilitate connections between businesses like Mat's Boom Sailing and Kiwi's seeking genuine and enriching experiences. This is exactly what we came across in Boom Sailing when we were on the search for an exciting natural and adventurous experience in the Coromandel area. We're absolutely stoked to have Mat and the team on board!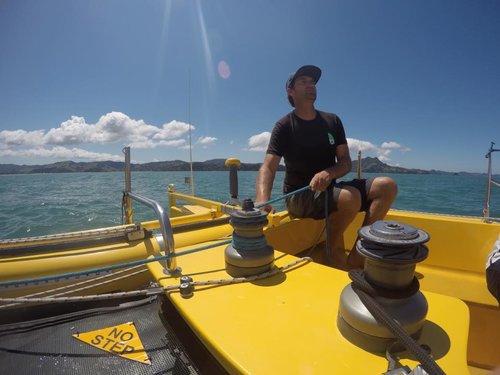 Mat from Boom Sailing in his element out on the ocean.