Partner Spotlight – Keith & Eric from Secret Spot Rotorua
Not-so-secretly (rather ingeniously), located at the trail head of Rotorua's most popular mountain biking forest sits Secret Spot Hot Tubs Rotorua. The brainchild of local brothers Keith and Eric Kolver, who fondly look back on their days of kicking back in a natural hot stream near their childhood home after a day filled with fun and adventure. Here, they'd sit back, relax and laugh as they relive the stories of the day. It's no wonder then, how Eric and Keith dreamt up the vision for this slice of paradise just minutes up the road from the heart of Rotorua city.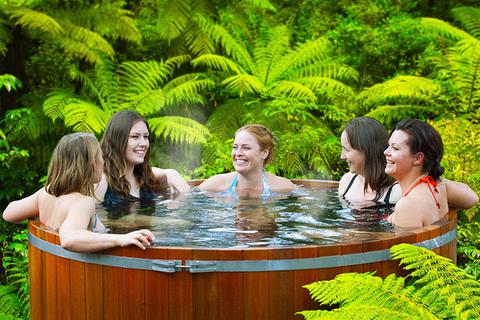 Secret Spot is the ultimate relaxing Kiwi experience just minutes out of Rotorua.
When you walk into Secret Spot, it seems to continuously expand its way out in front of you. Beside the 12 cedar tubs all individually nestled along the perimeter of the property and as close to the forest as you can be, you'll also notice the well thought out landscaping, a beautiful outdoor terrace garden, and plenty of 'shinny dips' – AKA mini hot tubs for your feet that come free with any drink purchased. Oh, did we mention that Secret Spot is also one of Rotorua's hottest café and bar facilities? There are loads of great tea's, coffees and snacks on the café menu, plus Good George Beers and Ciders on tap and plenty of Kiwi wines on the bar menu. Pro tip: Opt for a soak in one of the tubs and have any of these great refreshments delivered right to you while you sit back and relax!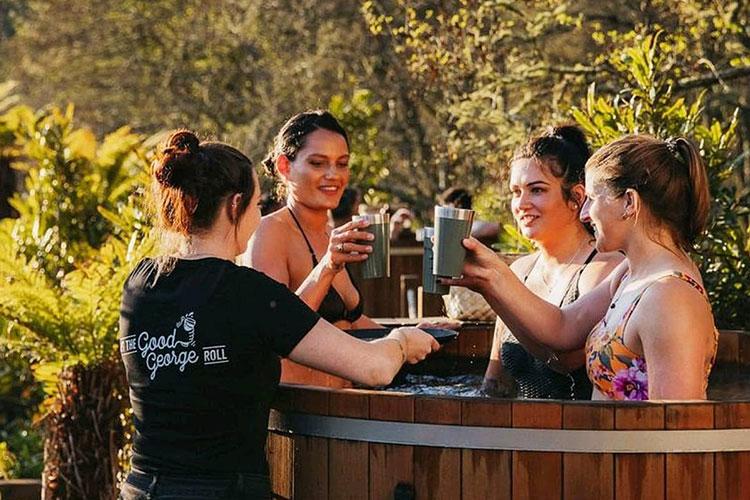 At secret Spot you can even have refreshing drinks delivered straight to your hot tub.
The vibe of this place is very, very Kiwi, from the friendly faces and kindness of the Secret Spot Staff to the forest setting with the Puarenga stream running past the property. There are mountain bikes (securely) parked out front, and on occasion, even a live band and Eric or Keith on the BBQ. You really couldn't ask for more…. But, there is one more thing – the option to do it all at night, while the forest in front of your tub is illuminated by beautiful and thoughtfully placed lanterns and lighting features, this really is the ultimate way to wind down and reminisce on the day, whether you've been out adventuring through the forest, or enjoying one of the many other great adventure activities on offer in Rotorua.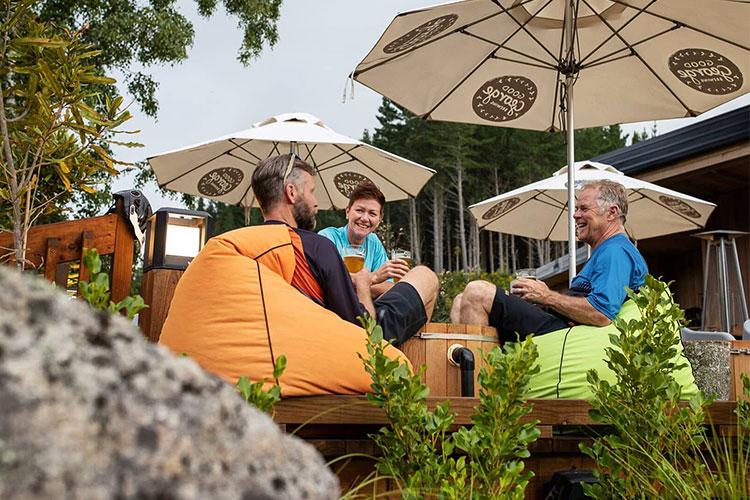 There's something for everyone at Secret Spot including their 'shinny dips' where you can soak you feet and share a beverage in a beautiful setting.
Undeterred by opening a new visitor activity just months before international borders were closed and a nationwide lockdown ensued, the pair are focussed on continuing to deliver a unique experience delivered alongside exceptional Kiwi hospitality to their audience of New Zealanders. Keith and Eric are well known in the tourism community around these parts, and we at Chuffed enjoyed working alongside these guys in previous roles before Chuffed was born, so we're over the moon to be able to do so again with them as experience providers!
Regardless of whether you're coming for a soak in the tubs or just to chill out with a hot or cold beverage in a beautiful outdoor setting, there's something for everyone here.