How a 72 year old Granny became a Zipline FREAK!
A Christmas gift inspires a whole new world of adventures 18 months on…..
When Chuffed Gifts started , our goal was to inspire Kiwi's to give better gifts. By gifting experiences rather than stuff, great gift giving can have a profound impact on people's lives as they try new things, discover new places and in some instances achieve more than they thought possible.
And no one encapsulates this more than Carol Cotter-Payne a 72 year old granny from Awhitu on the Manakau Harbour.
Carol was the recipient of a Chuffed Gift for Christmas 2020 – a gift from her daughter – in law, with a challenge to try ziplining if she dared!
When Carol first contacted Chuffed to redeem her voucher she said "I'm 72 and getting challenged to try stuff outside my comfort zone"
So did Carol take up the challenge and step outside her comfort zone?
Of course she did, and promptly booked herself in for an adventure to Waiheke Island to take on Ecozip.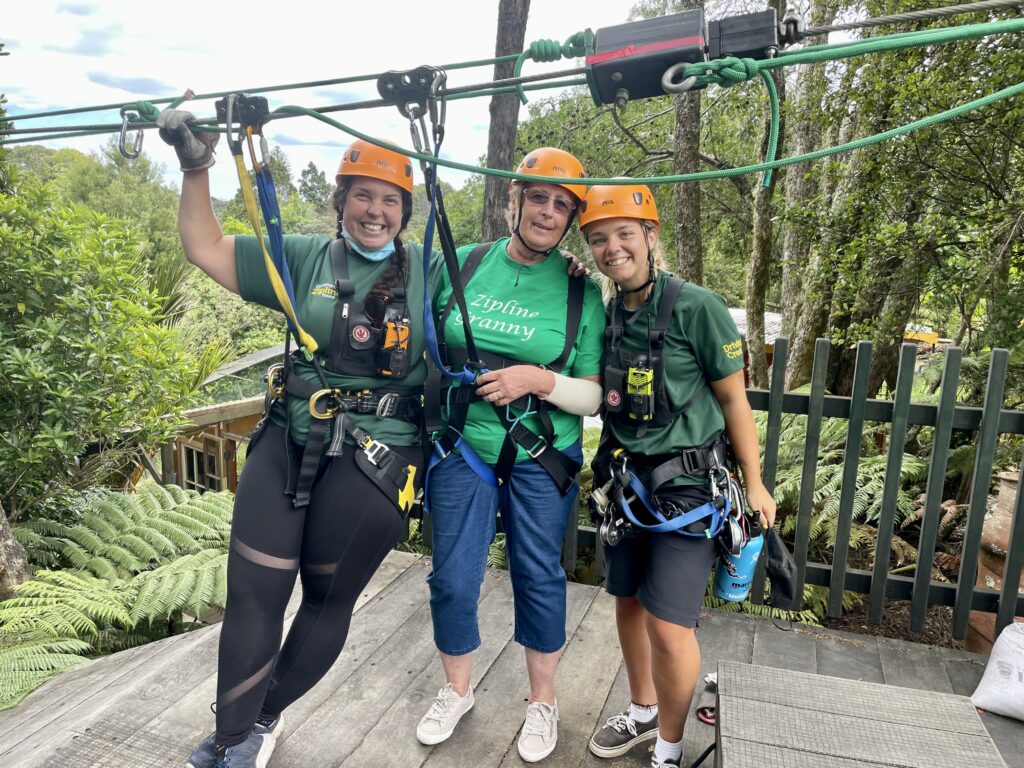 She had such a great adventure and surprised herself with her own capabilities that within 3 months she found herself travelling to Rotorua and taking on the premier zipline experience in New Zealand – Rotorua Canopy Tours.
"Honestly I think I have become a zipline freak in my old age, if I can persuade my husband I'd now like to go to Nelson and try canyoning" said Carol after her visit to Rotorua.
Obviously Carol has been putting the word out that she would like another Chuffed Gift for her birthday and our beady gift packers spotted an order a few months later that was to be sent to Carol with a Happy Birthday note.
And the next thing we know…. we spotted this image online with her Chuffed Gift Tube at Corozip on the Coromandel Peninsula. Zipline Granny was at it again and embracing this whole new world of adventure.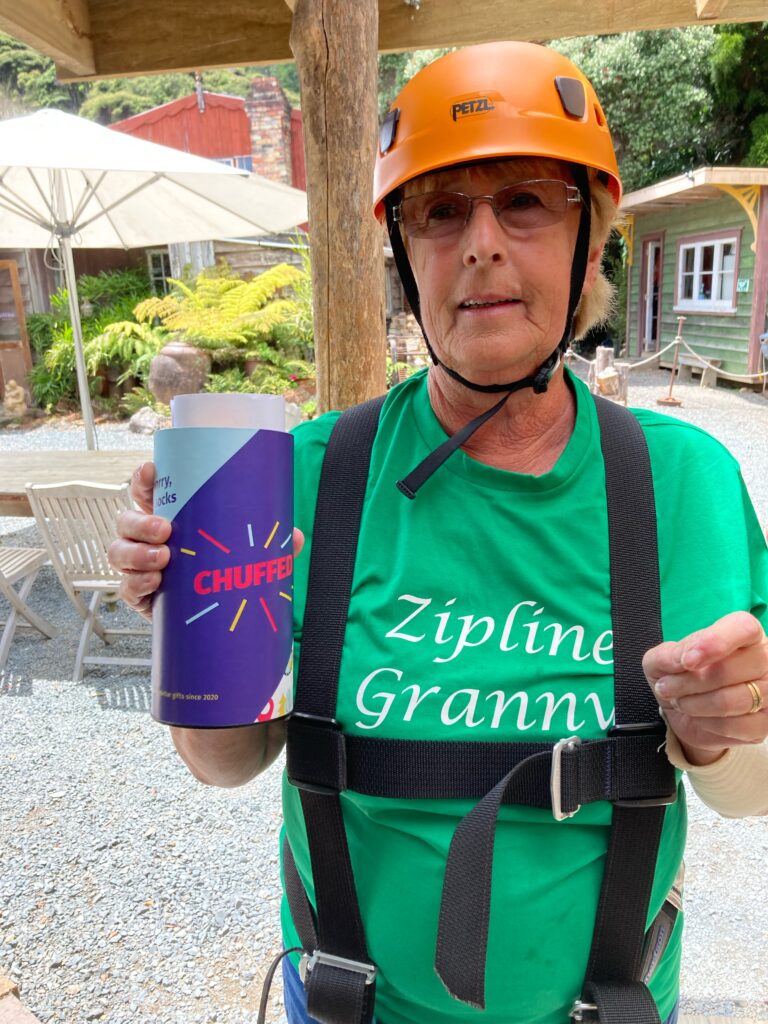 We couldn't help but check in with Carol and find out how she was going.
"I've told the kids to only give me Chuffed Gifts from now on, they also got me my special Zipline Granny tee shirt. I just want to say to everyone don't be stuck for gifts. I am having a great time with my gifts, off indoor skydiving in Queenstown next month. Had a few ziplines now. I am 72 and loving the excitement. Might have to change tact to whitewater rafting next"
We reckon she shouldn't stop there though, surely the ultimate end goal is jumping out of a plane from 15,000 feet.
We are super proud of how a simple Chuffed Gift has spurned on the adventures of this adventurous granny. At Chuffed we really can't wait to see where the journey ends, but we'll keep an eye on Carol and encourage her to finish it off with the absolute pinnacle – a 15,000 foot skydive out of an airplane.
We'll keep you posted…….
About Chuffed Gifts: Chuffed Gifts is changing the way people give gifts in New Zealand. When people receive a Chuffed Gift they get to choose an experience they want to do anywhere in New Zealand. It's a gift that can't fail and will live long in the memory. Chuffed Gifts start from $99. To learn more click here.