Easy gift giving, AnYWHERE IN the world
Need good gifts and presents for family, friends, or colleagues in New Zealand?
Good news!  Chuffed Gifts is here to make gifting from overseas easy.   All you have to do to get a special and meaningful gift mailed to anywhere in New Zealand is: browse the website, find a Chuffed package that fits your need, we'll get it packaged-up and couriered-out, and your lucky giftee will receive a lovely surprise – where they can open their Chuffed Gift and choose their favourite experience to do from a plethora of options.  Your recipient will be ecstatically thanking you twice…  firstly when they receive the gift, and secondly when they experience their choice of activity!
Chuffed will take care the personal touches – like wrapping it and including a personal message, and then we get the Chuffed Gift couriered direct to their door, anywhere in New Zealand.
No matter where they live in New Zealand – Chuffed Gifts is the perfect present. 
You choose the gift package, priced from $99 NZD, and they get to choose one from up to 80 experiences from all over New Zealand. Packages include For him, for her, for couples, for families… Chuffed has you covered. It literally is the gift that can't fail.
You'll also be helping to support New Zealand's tourism industry which has been hit by the Covid pandemic in addition to encouraging your lucky gift recipient to get out and experience something new.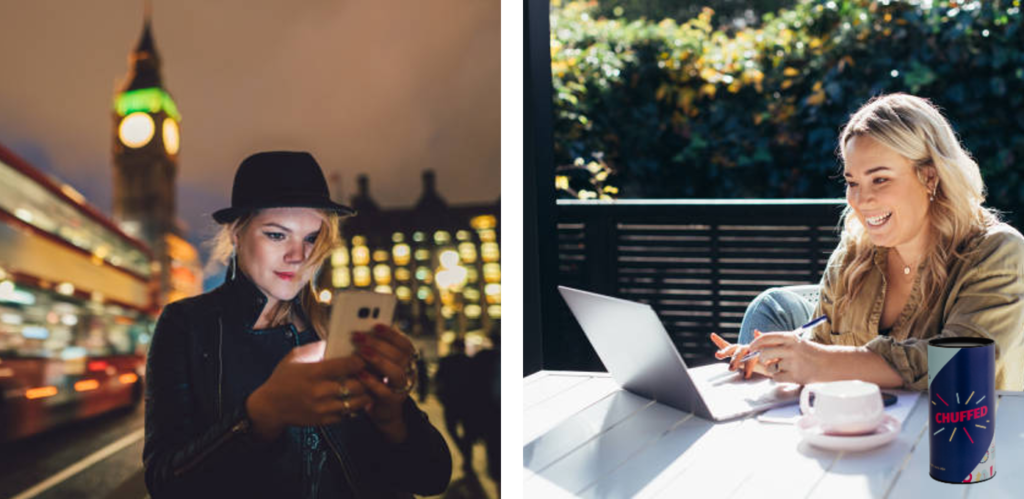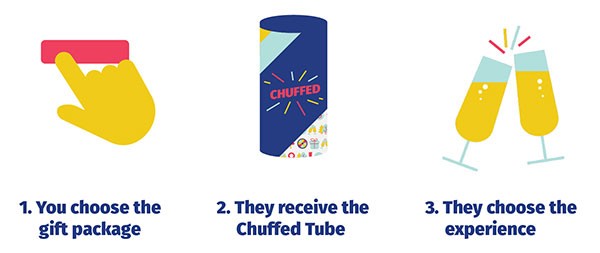 Here's how it works from overseas
You order online, check the text box that you want it delivered straight to the recipient and type in your message.
We pack your gift, add your message and wrap it. We'll send you a picture so you know exactly what they will receive.

Our courier provider delivers direct to your gift recipients door.
Simple as that!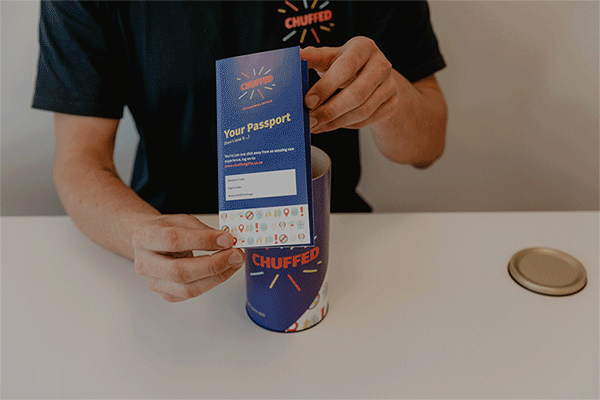 What Overseas Customers are saying
 Great idea with prompt service and personal touches
"Love the idea of chuffed gifts! Bought as a wedding present for a friend from overseas. Prompt service with personal touches and the product looked great when it was sent out!"
– Francesca Koffler
 Great way to send a gift from the UK
"I ordered the Experience for two -Discover package. Everyone was really helpful, communication was fantastic and delivery was really speedy! My friend loved the gift. Couldn't recommend highly enough!"
– Joanne King
Chuffed UK Dad, Chuffed NZ Daughter
"Purchasing a gift from the UK for my NZ based daughter, the process was made as simplified and hassle free as, I believe it could be! Chuffed are great in terms of communication, customer service, etc., my daughter received her gift in good time and is  absolutely delighted with it!
Suffice to we are all well chuffed with Chuffed and do not hesitate to recommend!" 
– Mr J.A. Wilson
My sister was Chuffed!
"I used Chuffed Gifts as I'm in the U.K and wanted to send a less run of the mill birthday pressie to my sister-in-law in Tauranga. The website and ordering process are fab and very straightforward – the gift experience choices are varied and great value – way better than I've seen here in the U.K!
My lovely sister-in-law received the gift tube within 24hrs of ordering and loves all the experiences she got to choose from. A really great service and certainly makes an awesome gift. Thank you all at Chuffed Gifts."
– Julia Cunliffe